thailand market place top | clearance H&M pants $5 | Bakers shoes $60 | assorted Wet Seal bracelet $12 | Forever 21 necklace $3 | Dooney & Bourke Purse
How long do we stay "under construction"? I mean as humans it is our nature to continue to evolve. That is the only way to find the best possible you, but how do we know who and when that is going to be? When do we get the final product?

I am 22 years old and have yet to be in a serious relationship. I have been told that my overall being is intimidating and well, scary. Is it something about the outfits I pound the pavements in? Is it that I am not afraid to be vocal about my opinions and passions. Am I too vocal even? Am I too loud? Too short? Am I just too much? These questions have strung a theme as of late. The theme? "Building the road to a significant other". I know, it sounds like the title of a self help book, but I had to know. What is it that keeps my Facebook status "single"?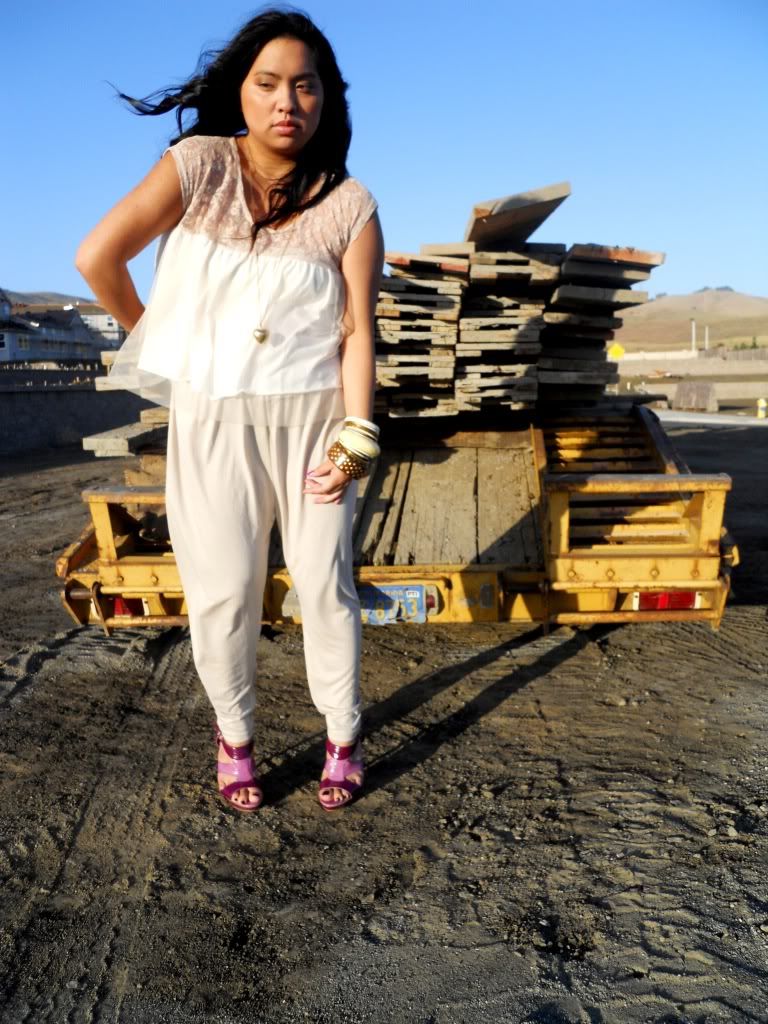 None of the questions I have asked myself have led to any major revelation except one. Could it be my baggage? I am not talkin about the latest Louis Vuitton shoulder bag or tote, not even an adorable vintage clutch. I am talking about the gooy, icky emotional baggage that you somehow have been caring around for years. That baggage that helps keep a safe enough distance from you and another human being. No matter how you style it up, this kind of baggage can never be managed into an accessory. It is more of a hindrance. So, what do we do with this hindrance? How do you turn that bag into a tool pouch that helps add the finishing touches to the prime real estate that is you?
The answer is easier to say, but far more difficult to do. Share the work. Open up that pouch and extend a wrench to someone. All that icky, gooy emotional stuff you would much rather not deal with does not have to be zipped up. That emotional stuff may be what helps keep a distance from you and another person, but it does not have to be. Maybe you do intend to open up and unload. Maybe you are just waiting for that special someone so you can flip over that bag and dump every single thing you have held in for a hundred years all at once. I do not exactly think that is the right approach, but one thing is definitely for sure. The first step is yours. Who knows? Maybe that someone you extend a wrench to might turn out to be the one.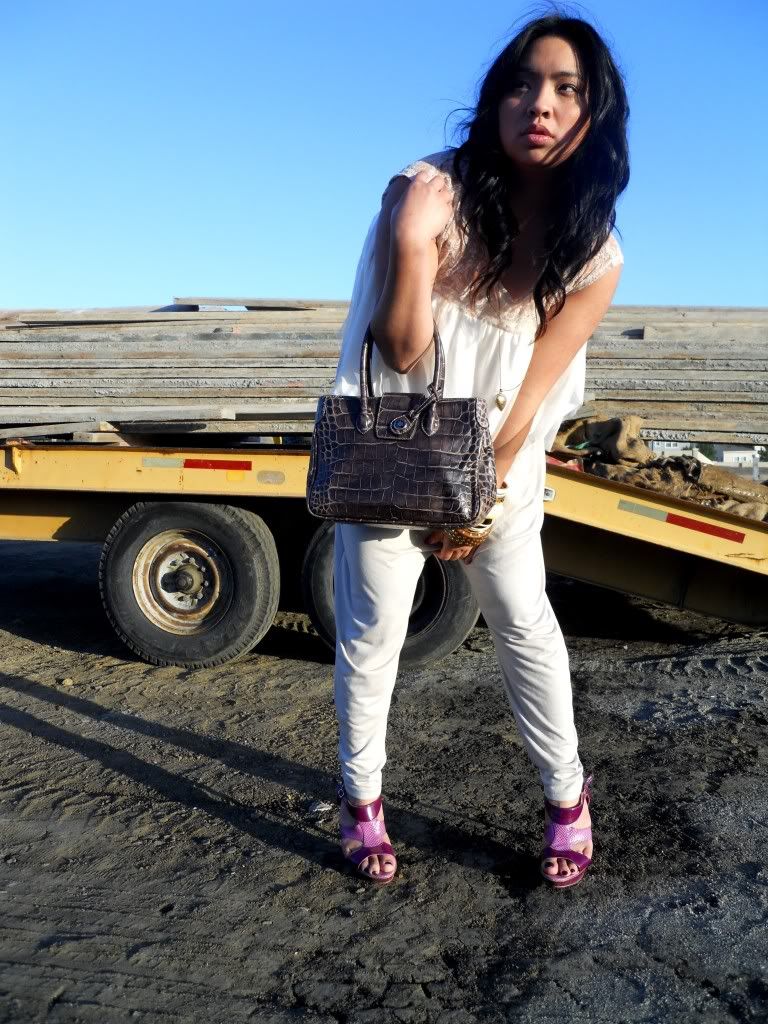 The final product comes not when we snag "the one". The final product is produced when you extend yourself fully. Take a leap. Remember evolving is how we as human beings find our best possible selves. If we continue to lug all that stuff zipped up in that baggage of emotional sludge then we cannot evolve. Instead of finding the best possible self we hold on to what is the worst part of ourselves, the part that chooses to be stunted, stuck.

That's it. No stories or anecdotes. Just some words for food. All I have to do is take my own advice.
THE LOOK
This look was inspired by a look posted by one of the fashion bloggers I follow, THE HAUTE PURSUIT in which she is wearing a sheer lace tee cut top and leather trousers.(Click thumbnail below to see inspiration)
Because I am tittering the line between plus size and not, the top is flowy and I chose a stretch harem pant for the bottom. This allows for comfort, ease, and movement. The top is cropped with laced shoulders and is finished with a tulled a line that pulls away from the body. To somewhat meet the sexiness of THE HAUTE PURSUIT's top each side of my top has a slit which reveals a slight bit of skin. I personally cannot pull off a navel baring sheer top. Because the top is cropped, the harem pant hit just below the ribs. This helps maintain the slight reveal of skin beneath the shirt but covers up the part that frightens which is also known as my belly and/or any love handles.Unfortunately I no longer have that top to take a picture of this detail. I do however, have a close up of the shoe below...

May that crop top rest in peace.I lost it on a trip to L.A. Hopefully the person that found it is one feroucious lady.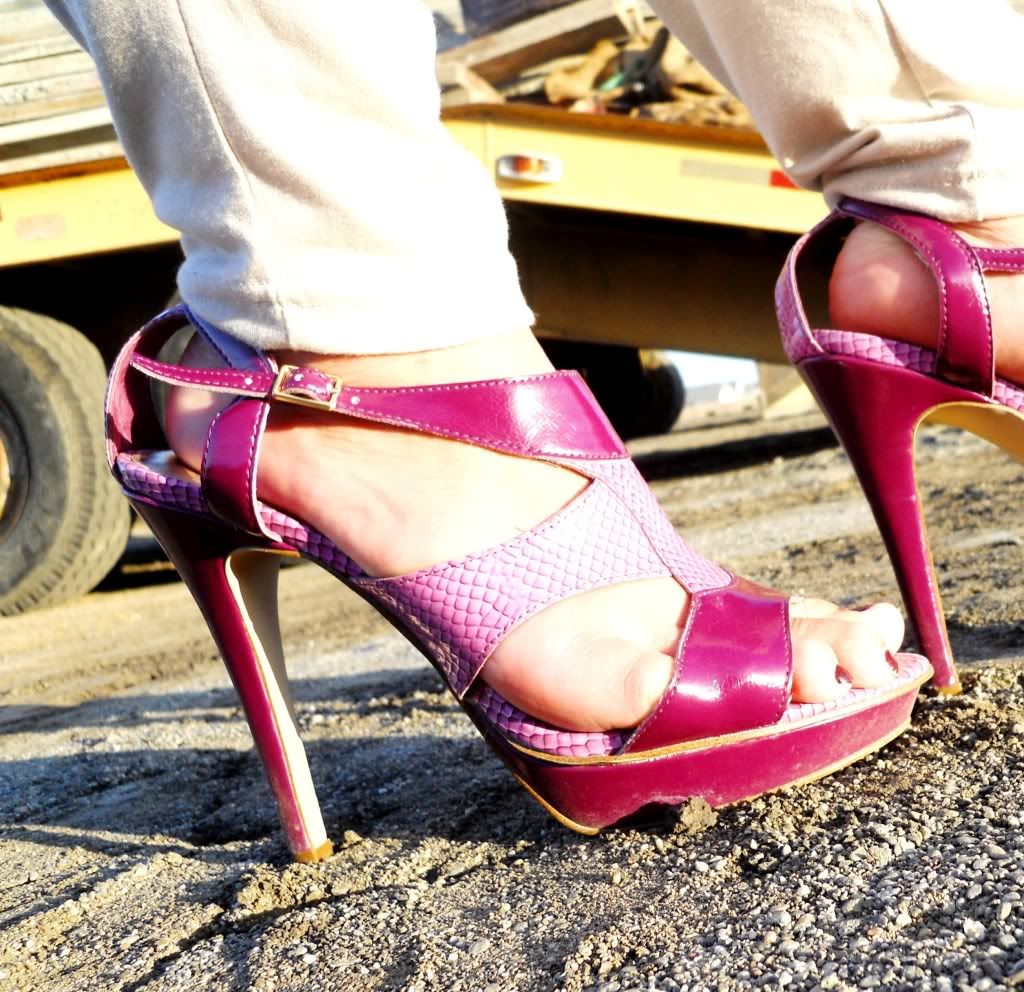 thailand market place top | clearance H&M pants $5 | Bakers shoes $60 | assorted Wet Seal bracelet $12 | Forever 21 necklace $3 | Dooney & Bourke purse
MUSIC TO KNOW