bought in thai land market place top | thrifted belt $5 | clearance H&M top $5 | actually a dress H&M skirt $20 | Aldo shoes $80
These pictures were taken in the downtown area of my Bay Area hometown of what I will call Valley Jo. If you were from Valley Jo you would know downtown in not especially known for its scenery, a great place for a late night drug run or to score a $2 lady companion at 12 midnight maybe. However, in the daylight you can see downtown's charm and potential. The Victorian houses and spacious waterfront help you imagine what it looked like before the liquor stores, sleazy motels, and crime. The downtown area like much of the city has the possibility to be something spectacular. However, there has been little effort to make "spectacular" happen. There are two main attractions in this city, a movie theater and a theme park. I mean there are only so many times you can go to Six Flags Discovery Kingdom and believe me the only thing you'll discover there is that there is miraculously 1 surviving dolphin from when the theme park was Marine World Africa USA. Understandably, there is no mall or major shopping centers in this city as you can find them in another city 20 minutes away in every other direction. However, Factory 2 U is not what shopping dreams are made of.

So how in the heck can I get Borders bookstore in this city at least? Where should my former hometown be putting its efforts?
Earlier this year,within a one month period I had been informed of three incidents of violent crime involving adolescents 18 years of age and under. Two of these cases were televised on the 10 o' clock news. It seems that violent crime has become the after school activity of choice. In recent years California has suffered an outrageous budget crisis. This has had a serious effect on our public education system. When I was in high school we had little after school organizations with the exception of sports. If we did have an organization there was little promotion, motivation, or incentive for students to want to join. At the present time it seems that if my alma mater had nothing before in terms of options for positive student productivity, there is less than nothing now.
Remember that downtown area with all that potential? Well, there is a transportation station there. It was decided that classical music would be played in this area to deter the drug dealers, workin' ladies, and the bored hoodlum candidates bopping around out of school. Look, playing a little Bach and Chopan is not going to change the community. The music merely sweeps the streets, chasing away a Mac Dre fan or two. Instead of the city thinking up new ways to do human street cleaning why not save that classical music CD money and invest in our kids education and positive student productivity.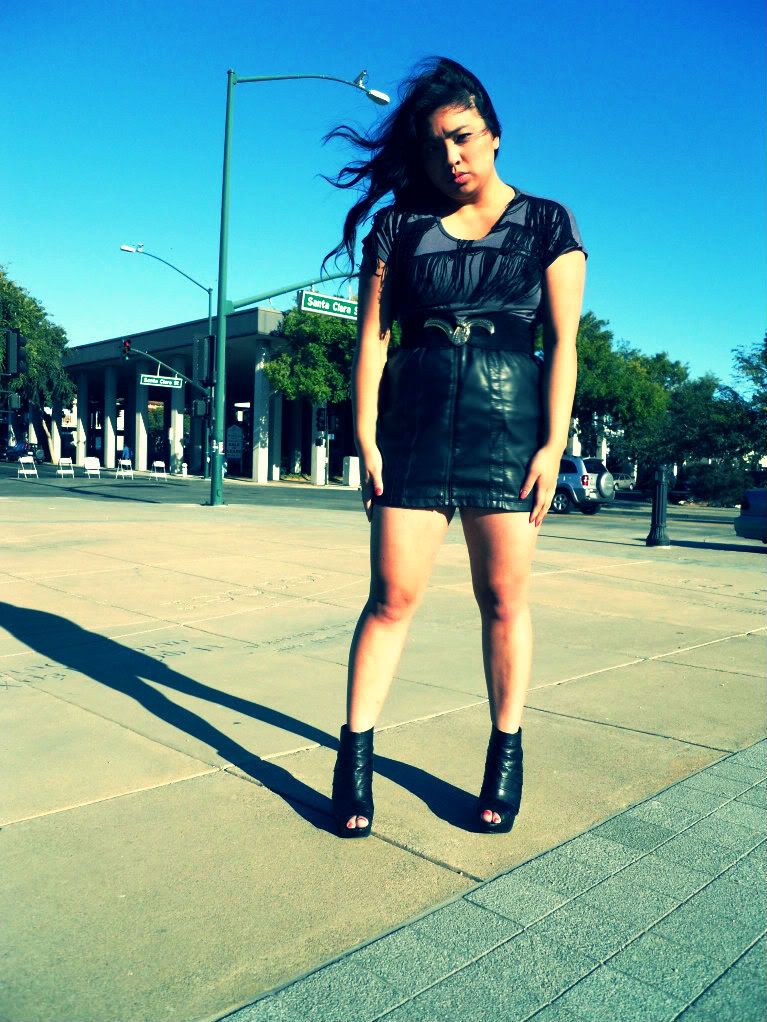 When you invest in the education of a a community a new environment can be shaped. Education and options for a student to be productive change the working demographic from drug dealers and prostitutes to future doctors and corporate head honchos. With that you change the consumer needs of a community. If an investment is made in education financially as well as through effort from academic authorities in the schools, kids will put down their video phone, stop taping the fight that just broke out in the quad, and read a book. A need for reading can be created and right there is the city's need for a Borders. See, it is a cycle.
bought in thai land market place top | thrifted belt $5 | clearance H&M top $5 | actually a dress H&M skirt $20 | Aldo shoes $80
MUSIC TO KNOW